A few weeks ago my dad made this recipe and sent it along to me. The original recipe, from
Midwest Living
, called for fresh or dried cranberries. I didn't have any on hand, so I used raisins. Any dried fruit would do, so pick your favorite and go for it! Both the original and my translation were great. I even tested them on some picky toddlers at this morning's play group and they ate it all up! That is always a good sign!
Raisin Quick Bread
Ingredients
2 cups all purpose flour
3/4 cup granulated sugar
1 1/2 tsp baking powder
1/2 tsp salt
1/4 tsp baking soda
1/4 cup butter or margarine (I used Smart Balance)
1/4 cup unsweetened applesauce
1 beaten egg
1 tsp finely shredded orange peel
2/3 cup orange juice
3/4 cup raisins
Optional (I did not use this) **1 cup coarsely chopped nuts**
Directions
Preheat oven to 350 degrees
Spray a 9x5x3-inch loaf pan with cooking spray.
In a mixing bowl, stir together the flour, sugar, baking powder, salt, and baking soda. Cut in the butter or margarine until the mixture is crumbly.
Add the egg, applesauce, orange peel, and juice to the bowl, stirring until just combined. Fold in raisins (or dried fruit of your choice).
Pour mixture into the loaf pan and bake at 350 for 60 to 70 minutes, or until a toothpick inserted in the center comes out clean.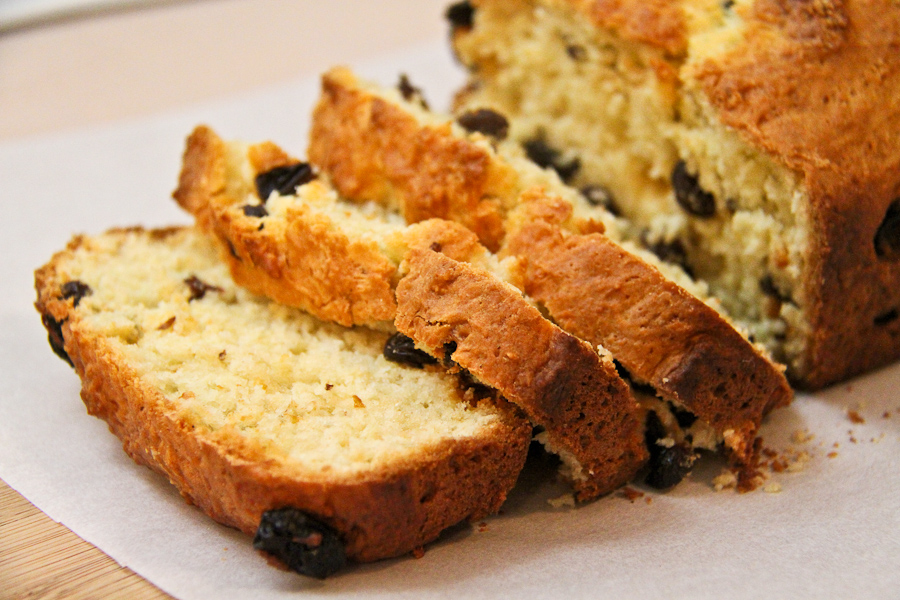 Cool for at least 10 minutes. This bread is best when eaten the day after baking, but can be stored in the refrigerator for up to 3 days.